Here's a recent interview - I get a sense that Delta doesn't really like the radio edit of DWABH...
http://www.popsugar....-Songs-24709951
Delta Goodrem Interview on Dancing With a Broken Heart and Writing Songs
DELTA GOODREM ON DANCING WITH A BROKEN HEART AND FEELING EXPOSED IN HER MUSIC

Music · Delta Goodrem · Celebrity Interviews · Pop Exclusive · Child Of The Universe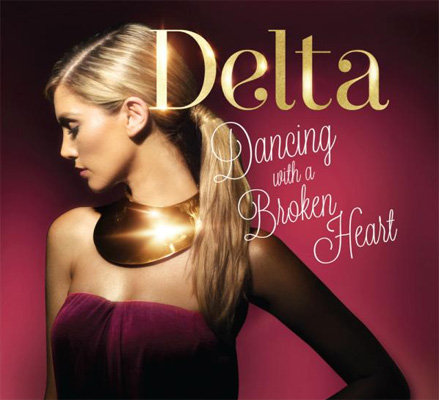 Earlier this year, Delta Goodrem spent months sharing her talent, wisdom and music knowledge with up-and-coming stars as a coach on The Voice, resulting in the discovery of her "angel" Rachael Leahcar, and now she's pouring her energy into the release of her next studio album, Child of the Universe. The first single off the album was the joyful "Sitting on Top of the World," and the second song, "Dancing With a Broken Heart," is a departure from the classic Delta we know, featuring dance-worthy beats and a sound the 27-year-old singer describes as "a little more extreme." We caught up with Delta on Friday to talk about the new single, her favourite songs to dance to, and what she wants to say in her music.
"Dancing With a Broken Heart" is quite a different sound for you. What was it like to enter that more dance-y territory?
It was interesting because the song in its original, raw form is just piano, and I have a version of that on iTunes. I do love my songs in their raw form — it's my favourite way to play and my favourite way for people to hear them. When you're in the studio you start dressing it up. You think, 'We could do this, we could do this,' and you start pulling different synths, different sounds — I just started painting that song. Originally I was thinking Robyn meets Kate Bush, that's where my head was at. It's a different production to what's actually going to be on the album, too. We went a little more extreme, I guess, but I love the original form.
How do you like to perform it? The radio version doesn't have those piano riffs we're used to hearing in your music.
When you hear it in its piano form, it does. [Sings to demonstrate] I've been playing a piano/cello version. I really do love that version like that, actually.
More from Delta when you keep reading.
Would you perform it the way the track sounds?
Possibly! It's funny, while we're talking, I'm getting my tour together, I'm getting my show together, and when you were just saying that I was thinking in my head, 'You know, I'm stripping back a lot of songs. Maybe I'll do that full version.' It's good fun to do that too. I mean I love dancing. It's one of my favourite hobbies. When I'm in LA I go to open hip-hop classes with my girlfriends.
I saw that video you posted on Twitter this morning of you dancing to Montell Jordan.
[Laughs] That was this morning! I was just like, "Getting ready!" It's like a playlist I have where it's like "Jump Around," "You Can Do It" by Ice Cube . . . It's just like a full-on, hilarious playlist. I love it.
What other songs do you like to dance to aside from "This Is How We Do It"?
I've been obsessed with "Let It Rock," that song from Kevin Rudolf. I love hip-hop to dance around to. I love Fatboy Slim's "Rockafeller Skank" — that's one of my favourite songs to dance to.
With a song like "Dancing With a Broken Heart," as with other songs, people will read into the title and lyrics, so does that affect your song writing?
No. I am somebody who is a constant thinker, but when it comes to my art and my music, that's where my strength comes in. I want to reflect, and I want to be able to be as open as I can be in my songs. I say to myself, "There is no restriction. The sky's the limit." I can do whatever I want. If I want to change a chord here, I can. It's completely freedom of expression and I really do love to express through music. I don't feel any type of restriction on worrying about what anyone says. It's different when I speak in public, obviously, but in singing and writing a song, no.
Do you write music for yourself? Or do you write for other people?
It's a bit of both. I would say that I have to write from a place of experience. You can't write a song if you don't have something to say, so if I've got something to say, then I can write a song. I am very opinionated in general, even though it's not something that I like to bring out as much in general, because again that's something in my songs. I want to be able to say everything in song. But I also just want to be able to relate — that's what every artist says and it's true. You want to be able to write about what you've gone through because you know that someone else is going through it. And it's the same universal laws of what we're all experiencing. Some people might feel the same.
Have you ever written something where you've thought, 'Maybe that's too much I'm revealing of myself'?
I've released songs where at the time I've thought, 'Oh, I feel a little bit exposed.' "Out of the Blue" was that for me. When I released "Out of the Blue" I was very, like, 'Did I need to say that?' But it was such a killer song and I love that song so much. And I look back now and I go, "I'm really glad I said that. I'm really glad that I expressed that." You've just gotta be honest and truthful in songs. Bob Dylan says it's just three chords and the truth.
Child of the Universe is released in October